Improve your safety controls, compliance with brand standards and the execution of your promotion campaigns throughout your retail service stations.
Getting all Service Stations to comply with the safety and brand standards is a complicated and time consuming effort. On a daily basis, the team needs to perform many checks across the Station.
Iristrace can help you replace paper based processes with forms on mobile devices, and providing user manuals electronically, so that your team can easily comply with always up to date instructions, and record everything that happens, including comments and photographs of issues. With Iristrace you can easily build a schedule of verifications which are consolidated in real time.
You will see results across your different stations using dashboard and reports. Iristrace can connect with your Business Intelligence systems for you to extract the maximum value from your information. If you don't have an existing BI System, Iristrace can provide one.
ISO and EN Standards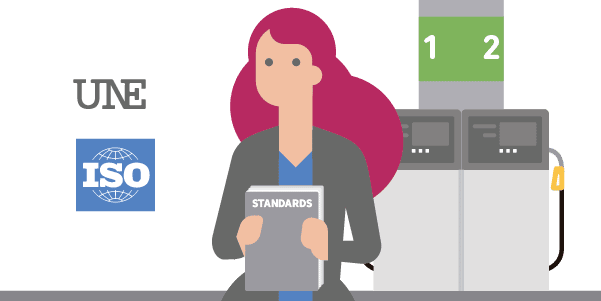 All service stations must comply with a raft of regulator and brand specific standards that regulate the site, the technical equipment, the operations and the client service. For each of those standards, there are a number of critical control points to verify that operating procedures are correctly applied on a daily basis.
Iristace will help service stations to fulfil these tasks by:
Distributing always verification templates to staff
Giving an overview to the area manager
Scheduling verification and maintenance processes by day, week, month
Providing self-assessment templates for applicable standards
The tool will allow your team to access the same up-to-date information on their mobile device. Keep the controls short and regular to get even better control of your operations.
Verification of storage tanks and unloading of road tankers
Preemptive maintenance and cleaning procedures
Customer attention standards
Marketing campaigns & promotions
"Iristrace is a very agile tool, easy to use and essential for us to supervise the operations of our service stations. It is indispensible for us to maintain our UNE 175001-6 accreditation. I fully recommend it."
Gabriel Veiga Dopico
Head of Quality and Service Management
Andamur
Millions of inspections conducted
around the world
Would you like to experience how Iristrace can help improve your business processes?
Fill out the form and create your 30-day free trial account.
Schedule a meeting with our team. Our success consultants are available to help you during your 30-day free trial.
As a qualified architect I have always been searching for the best way to combine form and function to get to the desired result and to bring real value to the users of my designs. I am currently applying these learnings to bring innovation and creativity to the users of our software applications and help them improve continuously.