'Actualidad económica' with the sponsorship of Caixabank, has delivered for the 3rd consecutive year their awards to the best Startups in Spain. With the collaboration of the consulting Venture Watch has selected a group of entrepreneurial companies that help to position Spain in the international arena in the world of innovation.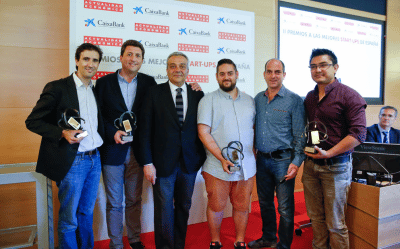 In Iristrace, we have had the honor of being included in the TOP5 of Startups with more traction this 2016 and receive our award from the hand of Víctor Calvo-Sotelo, Secretary of State for telecommunications. Together with Iristrace, were rewarded: Emilio Bravo, of Lucera; Roberto Romero and Steven Posner, Future Lighthouse, and Mario Aguilera, Tespack.
Thank you 'Actualidad económica', from the Spanish newspaper Expansion, and Caixabank, and we promise to keep innovating and helping brands to deliver on their promises, compliance with its excellence and quality in service with Iristrace.
You can see the video of the Awards here: