With the Iristrace system, any doctor or member of the medical staff can easily review and update key patient data using a smartphone. The objective is to make the transmission of information easier and to minimise the administrative overhead especially during the COVID-19 crisis.
The main features are
Simplified admission protocol to an available bed
Triage procedure for COVID vs non-COVID patients
Capturing essential information about the patient and pre-conditions
Updating ventilation metrics such as FiO2, or PEEP/PPLAT regularly
Getting a real-time overview of each bed within the hospital
Checking whether all required analyses have been conducted
Managing the transfer to other units

Knowing which type of ventilator is in use by each patient and for how long

Understanding the duration of each stay
Simplified protocol for release and decease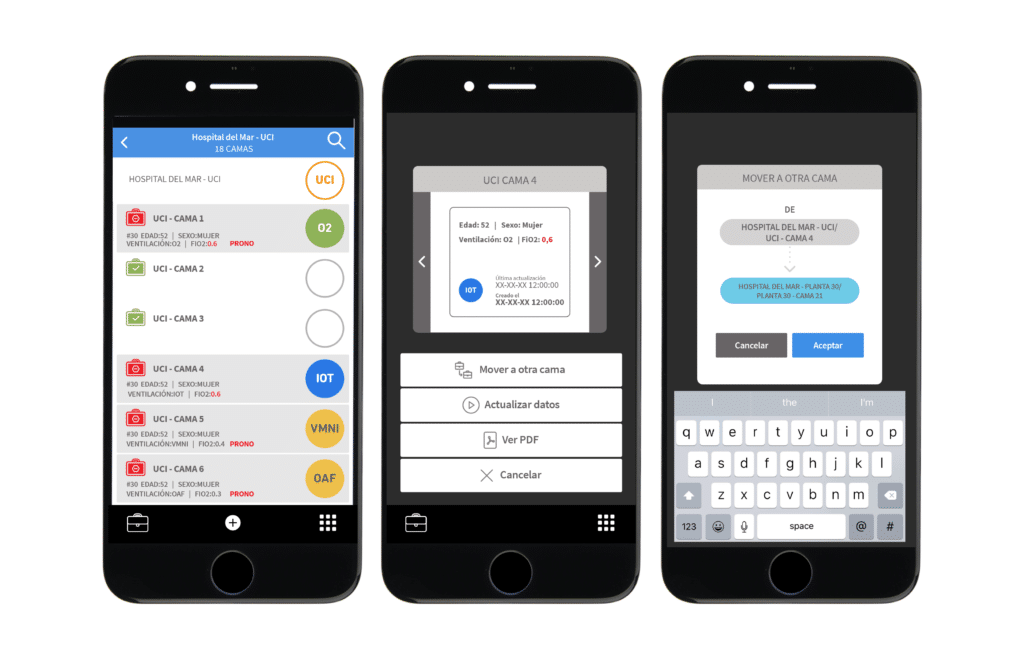 Use Case: Hospital del Mar, Barcelona
With Iristrace we get an unprecedented visibility into our daily operations. Shift handovers are easier and well documented. We easily see all critical patient data right there on our phones and are able to allocate the available equipment faster to our patients.

Francisco Parilla, UCI
Working in close collaboration with the ICU of the Hospital del Mar, Iristrace has implemented a simplified form for patient data that serves as a basis for collaboration among healthcare professionals, documenting the condition and the treatment received by the patient.
Hospital del Mar features more than 400 beds, and has been extended to accommodate even more patients during the COVID outbreak.
Admission
Transfer
Type of ventilator used
FiO2 patient updates
Hourly key metrics
Transfers
Patient discharge
Iristrace is available to hospitals and temporary medical centres that want to optimise their work processes and use of their resources.
Feel free to fill out this form and schedule a meeting. We will contact you. You could be working with the Iristrace hospital solution in just a few days.
Would you like to discover how Iristrace can help improve your business processes? Request a free 30 day trial
Please book a meeting with a member of our support team to deliver the account to you and to provide you with a 15 minute introduction to the system.