Measuring service quality in supermarkets and hypermarkets involves carrying out a large number of processes. Point of sale audits, tidiness and cleanliness revision in retail stores or brand and image control in shops. But these are just some of the many service quality controls which are performed in retail stores nowadays. On the same sense, to control interaction situations with clients in the checkout area is also equally important.
However, the aim in any of these measuring quality processes is always the same: to offer excellence to customers.


How to control service quality in supermarkets?

Revising, measuring and controlling all areas in a supermarket while complying with the quality policies which are demanded by your company is not exactly an easy job. To comply with what your customers expect is not either a simple task. In fact, many times, same data must be completed up to two and three times. This sounds familiar to you, doesn't it?
With the Iristrace app you could audit your supermarkets and hypermarkets in a much more agile and efficient way with simpler checklists. Digital forms, with a question/answer format, to which you can attach photos and comments or add voice notes made from the same device with which you are performing your quality audit.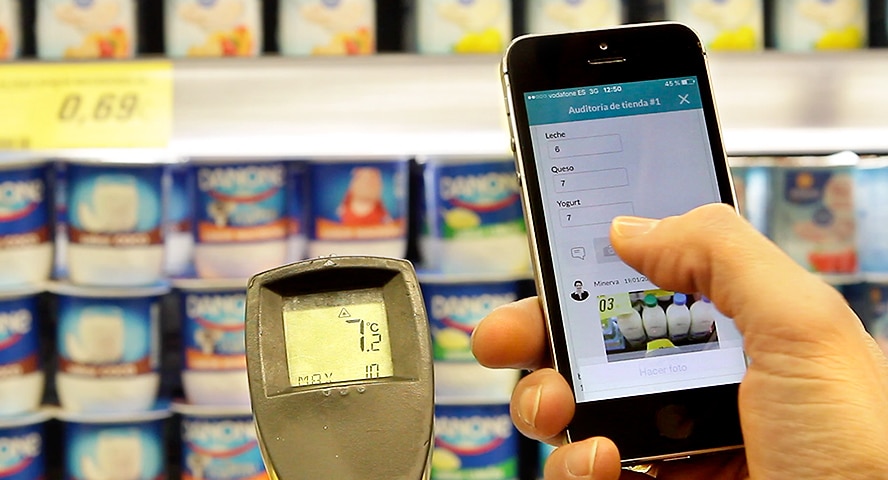 Moreover, filling in checklists from a smartphone or tablet, allows you to get immediate answers and to have, therefore, a much more involved staff. "Iristrace allows us to have control over what happens in real time. Thus, we can react effectively to situations that deviate from the company's standards", Pablo Fernández-Montes says, responsible for process optimization in Carrefour supermarkets and hypermarkets.
Simplify administrative work
Performing an internal quality audit in several supermarkets can take several days. Particularly, if you have to audit many stores, all of which belong to the same brand. In addition, the work does not end here, since later you will have to import data into excel and analyze the results. Indeed, we are talking about a task that can easily take two or three days. Am I right?
Dull tasks that we can not skip, but we should able to speed up by using new technologies. Quality tools like Iristrace, a mobile and web app that makes it easier for customers to carry out point-of-sale and quality audits in supermarkets and hypermarkets.
"Iristrace is a digital tool that allows you to work with a smartphone at the points where you must audit, without having to go through the office. Therefore, administrative work is simplified", Pablo Fernández-Montes adds.
All global technology surveys ensure that the digitization of companies is imperative for growth. We work to be experts in these processes of digital transformation. So, if you have any questions or comments on this subject, contact us. We will be happy to talk to you.