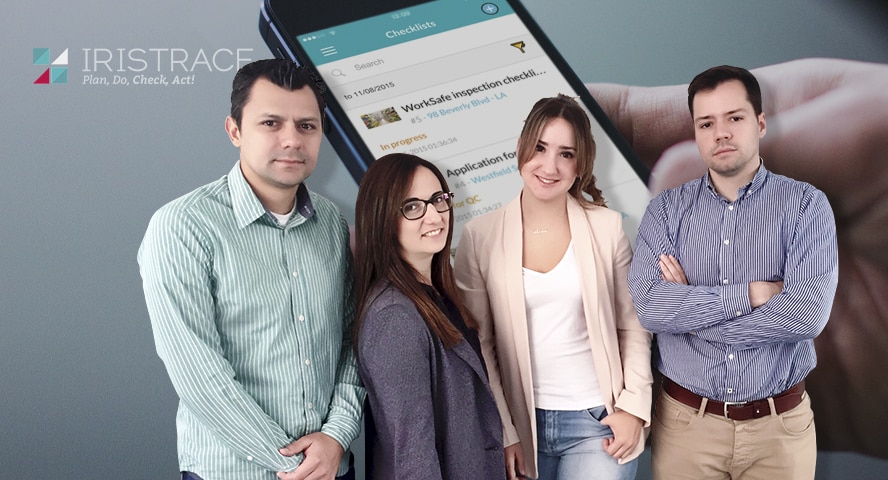 The success consultant is one of the added values ​​of Iristrace and makes a real difference in the market. They are not just words, but a promise. Elena, Ángel, Esther and Juan Camilo are the four advisers or success consultants that accompany clients at all times. Each one is specialized in one area: hospitality, industry and retail. They will explain in their own words their differential advantage over competitors.
What is and what does a success consultant?

It is the client's agent within Iristrace. The figure that helps and advises you to ensure the success of the project. Your trusted person. Who will get your doubts and the one who receives the information to configure your account project. But success consultants are also in charge of managing requests and suggestions that customers usually have regarding how our application works. They are responsible for coordinating the whole team in order to adjust Iristrace to the maximum and get the most benefit of the tool. In short, the success consultant is the link between Iristrace and the client.
When does your work begin?
Usually, our work starts when clients agree to incorporate Iristrace into their work procedures. It is time to set up the configuration of the company account, to create the digital environment which they will work with and to understand, in detail, the processes of each client. From this point, the relationship between us and the client gets closer and it becames much more tight.
However, there are times when our role, so key in Iristrace, appears even before signing any provision of service. This happens when, for example, the customer needs to resolve a technical aspect before starting to use the app and also, when you do not know how to apply the tool in your company. The task as a client's agent is, then, to advise and explain how that process can be adapted and improved with our app. Therefore, the success consultant is the person who knows how Iristrace works 100% and has knowledge and experience in the sector in which the client works.
How is the relationship between the success consultant and the rest of the departments?

They maintains close communication with all departments. It is in direct connection with the sales area, app developers and the legal department. It is the person in charge of translating client's procedure in order to find out with which department they will need to work closely. Success consultants must evaluate whether it is a legal argument, a sales issue or new development needs. In fact, it is at this point when they have to act as mediators between the client and Iristrace and find a solution as quickly as possible.
How is your daily work?

Our day is divided into three parts: keeping track of the customers we have, setting up new customer accounts and managing, along with the internal team, how new app features evolve when clients asked for them. Depending on how difficult company's work procedures, we may have difficult or quieter days. Sometimes, there are very good days in which everything goes smoothly. Yet, other days we find one obstacle after another, particularly when it is time to update the application and sometimes system errors need to be repaired immediately.
What is the goal of your post?

Having safisfied clients who are always comfortable with the use of the app is our maximum goal. They know there will always be a person willing to advise them and to resolve any doubts they might have with regard to the app working. Moreover, as we are specialists in the field we are in charge of, we are always able to provide a very good help to get the best results for our customers.
What benefits do success consultants bring to customers
?
Benefits are intrinsically related to the goal of our functions. For the client, it means having a trustworthy person in Iristrace all the time. An agent you can call when you need help. Success consultants know their clients' accounts from top to bottom. They know in detail their client's procedures and who are the users of the app, since they have trained them to use it.

If you want to know more about our four success consultants, book directly an appointment with them. Or you can also email us at the following addresses: industria@iristrace.com or hotels@iristrace.com. We will be happy to answer any of your questions.